Landscaping plays quite an important role in the physical appearance of your home. It is the first thing people see when they see your property, and some good or bad landscaping can make or break a home's whole look, as well as increase or decrease its overall value.
Here is an example of how landscaping can make a big difference.
As you can see, the homes look way different when they are nicely landscaped. But then you may be thinking, "I want to landscape my home but I don't want to hire a designer", well there are some easy ways to make your home look nice, without the help of anyone. These are some ways to landscape your home depending on your lot and other contributing factors.
The first thing to remember is, do not ever neglect your front yard. As stated by HGTV, many people often mainly focus on the backyard, forgetting the front yard, however that is where everyone's first impression of your house develops.
If you are looking for something simple, the best thing to start with is just keeping your grass clean and cut. Make sure you keep your grass short, but not too long. It is suggested that you cut down to 1/3 of its original length to ensure healthy grass. Too long means too much moisture, and too short attracts too much sunlight. Also don't forget to weed your yard because they can spread fairly fast, which does not look very nice. As a result this can drastically change the appearance of your lawn, from messy to well kept.
Landscape with the shape of your home. Take into consideration the size of your home, since the main goal of landscaping is to effectively display your house. If you use small flowers on a large house, they will not be noticed as much, so consider shapes and masses when developing a plan. Use large items that can be seen from the distance, but do not cover windows and doors. Group plants together and use some variation and repetition, while going along a color scheme as well, otherwise too many colors can overpower the yard.
Consider maintenance. If you are landscaping your yard to appeal to potential buyers, try to make it look both nice, and low maintenance, because an extravagant garden may have strong curb appeal however many people would not like to think of themselves spending hours taking care of it. Some low maintenance items to consider include:

Mulch beds
Lavender plants
Crushed stone
Perennials
Ribbon grass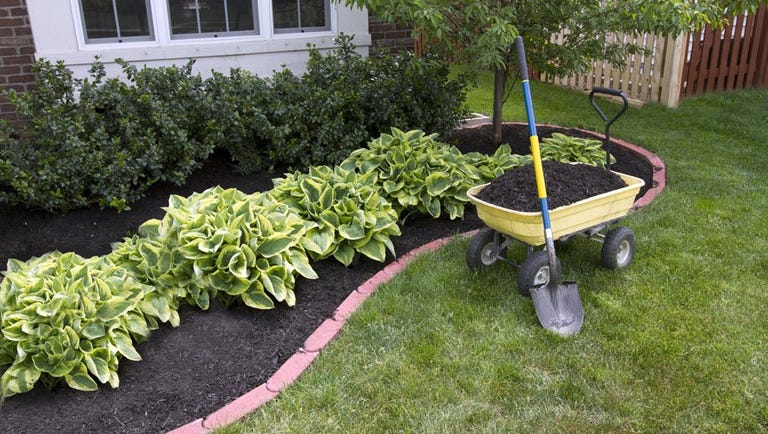 Next, a helpful tip is: do not plant hedges, trees, and plants too close to walkways. It is recommended that you plant them so that you have approximately 2 feet of free space around the walkway. This ensures that the plants won't grow onto the pathway, thus restricting the pathway.
This is an important one, and it is, make the entrance obvious. Don't tell me you've never came across a house where you had absolutely no clue which door was the front door. Trust me, you do not want to be the owner of one of those. It just makes everything confusing because your guests do not know where to go. As a result, make the main entrance the focal point and have your landscaping focused on highlighting it.
To conclude, those are just some of basics to landscaping your yard, every lot has potential, and with some time and hard work, yours can look incredible as well.
Let us know what you think of this post in the comments below, and tell us if you have tried any of these, or if you have any additional tips that we may have missed.